GET SMART FAST: PROFESSIONAL TRAINING (New)
The GSF 301: SMART RECOVERY FOR PROFESSIONALS training course is designed to provide you an in-depth and comprehensive training on the SMART Recovery 4-Point Program, the SMART Recovery tools... and MORE! You'll gain the necessary knowledge to proceed capably, comfortably (and authoritatively) in presenting the SMART Recovery program and tools to those you work with in your professional role.
IMPORTANT NOTICE!
If you have previously completed the GSF 201: Facilitator Training course, you've already been "trained" to use the SMART Recovery program with your clients and there is no need for you to complete this training course. Please be on the lookout for new professional course offerings.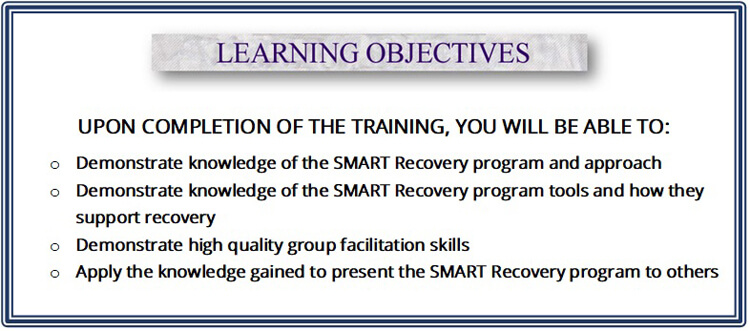 Course Information
All of the training materials are provided online within the course, so there's no additional purchase of course materials required. Click here to view the Course Syllabus & Outline. Upon registering you'll receive a confirmation email containing instructions and your access and account information, so you'll be able to get started right away. 
The training is entirely self-study (with exception to the optional "live" online training meetings available). We've estimated the "self-study" portion to take approximately 25 hours to complete. This is done at your own pace and at times convenient to you. The only deadline is the training needs to be completed within the 150-day enrollment period, which begins immediately upon registration.
There's also instances of "live" online training meetings available for you to attend. These (optional) meetings take place on various days and times every month. See the course calendar or the Upcoming events block for the scheduled meeting dates and times.
When asked to submit their evaluation, past participants have continually given our training program high marks, finding it to be extremely beneficial in expanding the reach of SMART Recovery to their local area or facility. 
CE Credits
This course has been approved for educational credits by SMART Recovery USA, Inc. as a NAADAC Approved Education Provider, NAADAC Provider #86948. SMART Recovery USA, Inc. is responsible for all aspects of the programming.
Click here for the current listing of boards and organizations that NAADAC approved CE hours are accepted. NOTE: There may be other licensing boards or organizations not listed where NAADAC's Continuing Education offerings meet the standards for acceptance. Due diligence should be performed to assure these CEs will be accepted by your board or licensing authority.
A 25-hour CE certificate will be issued to all who have successfully completed the training and satisfactorily met the CE requirements. The cost of the CE certificate is included in the training registration fee.
Registration
Ready to join us? After reviewing the Training Requirements and Course Overview information, complete and submit the online registration form by clicking the Register Now button below. 
There's a $299.00 (US) non-refundable registration fee to help cover the costs associated with providing the training and the CE certificate. There are no other additional fees or required material to purchase. 
Group rates are available! CLICK HERE for details and pricing information.

Last modified: Friday, 3 January 2020, 4:54 PM