Get SMART FAST 201: Facilitator Training

Our most popular training course where you'll be provided with an in-depth, comprehensive training on the SMART Recovery 4-Point Program, the SMART Recovery tools... and MORE!
The "Get SMART FAST" (Facilitator And Support Team) Facilitator training course (GSF 201) is designed to provide you with the necessary knowledge of SMART Recovery and its 4-Point Program for you to proceed capably, comfortably (and authoritatively) in your role as a SMART Recovery meeting Facilitator.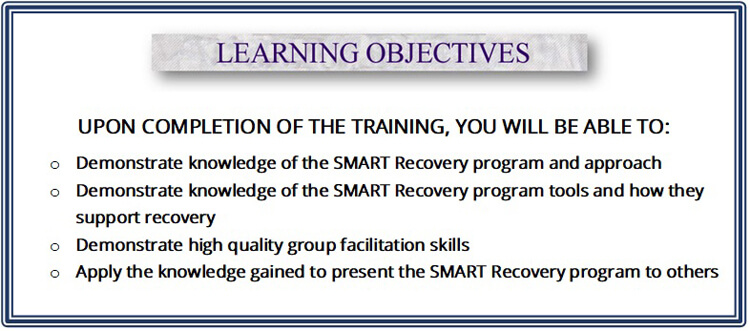 It is a requirement all of our meeting Facilitators—whether face-to-face or online—complete this training program course, where you'll review the various video presentations, reading materials, DVDs, and complete segment training exercises and quizzes entirely online. All of the training materials is provided online within the training course, requiring no additional purchase of course materials. 
Note: For UK and Australian trainees, see the International Training Links provided below.
Session Information
A new training session begins every month. Registrations are taken through the 15th of the month, with the session slated to open on the 20th. Registrations received after the 15th will be placed in the next available training session. 
Each training session spans over approximately 8 weeks, the typical session being 55 – 60 days start to finish. The training is entirely self-study (with exception to the two optional training meetings described below). We've estimated the "self-study" portion to take approximately 30 hours to complete, which is done at your own pace and at times that are convenient to you. The only deadline is all of the training coursework needs to be fully completed within the time frame of the training session.
There are two optional "live" online training meetings scheduled in each session, taking place in the final two weeks of the training session. The first meeting consists of multiple role play scenarios and exercises presented for discussion and the application of the SMART Recovery tools and techniques. The final meeting is a Q&A and discussion session with members of the training team, addressing any questions and/or concerns participants have in moving forward with their meeting plans. These two optional meetings wrap up and complete the training session. Click here to view the entire Course Syllabus & Outline.
Past training participants, when asked to submit their evaluation at the end of the session, continually give the training high marks, finding it to be extremely helpful and beneficial to their preparations in bringing a SMART Recovery meeting to their facility or local area. 
Upon satisfactorily completing the training, a completion certificate is issued. There are also CEU credits available for completion of the training, additional information about which follows further below. PLEASE NOTE THE AVAILABLE CEUs ARE PROVIDED AS A SERVICE TO SMART RECOVERY BY AN INDEPENDENT OUTSIDE VENDOR AND THE COST TO OBTAIN THEM IS NOT INCLUDED IN THE TRAINING REGISTRATION FEE. For additional information on the CEUs, the credentials they apply to, etc. please make any inquiries directly to the CEU provider by visiting their website here.
Registration
Ready to join us? After reviewing the Requirements, and Session Overview information, complete and submit the online registration by clicking the Register Now button below. 
A new training session starts every month. Registrations are taken through the 15th of the month, with the training session then opening approximately 5 days later.  Any registrations received after the 15th will be placed in the next available training session.
There's a $99.00 (US) non-refundable registration fee* to help cover some of the costs associated with providing the training. There are no other additional fees or required material to purchase. 
Need to register two or more individuals? Discounted group rates are available! CLICK HERE for details and pricing information.

CEU Credits Available
The Institute of Addiction Awareness is providing continuing education credits for nurses, social workers and addiction counselors completing the SMART Recovery "Get SMART FAST" (GSF 201) training program course. A 30-hour CEU certificate is available for only $69.99 to those professionals who successfully complete the training and are able to provide their certificate of completion. (See the approvals section at the CEU Institute website for additional details about specific credits.)
It's simple… go to http://www.CEUInstitute.com, complete the form provided and submit with your payment and a copy of your eligible "Get SMART FAST" Training completion certificate.
Thank you, CEU Institute, for providing this helpful service!
DISCLAIMER: This service is provided by an independent, outside vendor. SMART Recovery is not involved with the certification/accreditation process as far as to whom, where, etc. the CEU credits are applicable. Inquiries regarding these matters need to be made directly to the CEU Institute via their "Contact Us" information on their website.

International Facilitator Training Links
 Australia - SMART Recovery Facilitator Training
 UK - SMART Recovery Facilitator Training

*
If the training

registration

fee is a financial hardship, we have a scholarship program available which provides a reduced registration fee on a sliding-fee scale depending on the level of need. For information on our training scholarship program, 
click here
. 
Last modified: Wednesday, 16 January 2019, 11:20 AM